Sept. 30, 2022
By Anastazia Csegeny
—
Background
Meridian Credit Union is Ontario's largest credit union, and the second largest in Canada. With 89 branches and 15 Business Banking Centres across the province, Meridian has used its 75 years of banking history to help grow the lives of more than 365,000 members.
Objectives
The interior lighting of the Meridian Credit Union on 531 Lake Street in St Catharines, ON originally comprised of a mixture of traditional troffer fixtures, downlight fixtures, and exterior lighting fixtures. The lighting power consumption of the branch totalled 23,006W, which motivated Meridian to seek out a way to reduce their energy usage and lower the business' environmental impacts. Some of the immediate goals of the Lake Street branch included reducing their energy bills, reducing maintenance costs, reducing their overall carbon footprint, as well as increasing productivity of staff by eliminating light flickering and glare.
Proposed Solution
Meridian Credit Union approached Daisy Energy for a professional consultation and no-obligation quote for an LED lighting retrofit project at the Lake Street branch. The project included changing all interior and exterior lights, including Emergency and Exit lighting, to LED fixtures, which would significantly lower energy costs. Daisy Energy's proposal estimated a 52% decrease in lighting power consumption at the branch, and included an IESO rebate which covered approximately 25% of the project's cost. Based on their initial plans, Daisy Energy predicted a 51,822-kWh reduction in energy usage annually with the completion of the project.
Results
Over the course of the first year following the implementation of the retrofit lighting, energy usage and all costs were tracked and compared with the usage and costs of the preceding year. The cumulative year-over-year reduction in energy usage totalled 87,771-kWh, which was well above the 51,822-kWh reduction initially projected by Daisy Energy. The average monthly usage year-over-year then fell from 22,012-kWh to 14,697-kWh.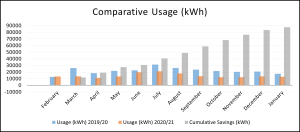 Next Steps
Daisy Energy's lighting retrofit project at the Lake Street branch met all the energy reduction goals originally set out by Meridian. With the 10-year operational energy savings at the Lake Street branch predicted to be over $110,000, Daisy Energy is now in the process of completing retrofit lighting at 11 more Meridian Credit Union locations.
If your company is looking to benefit from lower energy usage and better-quality lighting like Meridian Credit Union, contact Daisy Energy today to learn more about sustainable and eco-conscious solutions. As your trusted lighting partner, Daisy Energy performs reputable evaluations and energy audits and works to develop a thorough proposal personalized to your commercial or industrial space.